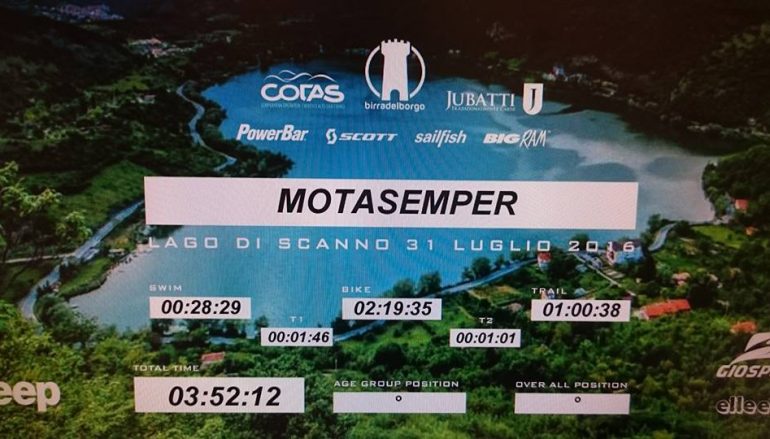 Xterra, la nostra piccola magia nel cuore dell'Abruzzo
Le acque del  Lago di Scanno si sono aperte anche quest'anno per accogliere i partecipanti dell'"Italian Championship X-Terra", la tappa italiana del Circuito Internazionale del Triathlon Off Road, con la frazione ciclistica in Mountain Bike – le classiche "ruote grasse". La prova, molto partecipata con oltre 400 atleti al via, si è tenuta sulla distanza "olimpico" (1,5 km nuoto, 29,5 km MTB e 10,5 km podismo).
Una prova vinta dal messicano Mauricio Mendez al termine di una prova massacrante che ha visto anche la partecipazione del #Motasemperteam, così come del team Fontegrande
Scanno, Abruzzo – Mauricio Mendez, a 20-year-old from Mexico City, and his mentor Lesley Paterson, a two-time XTERRA World Champion, won the XTERRA Italy elite races on a hot day in Scanno this afternoon.

It's the first XTERRA major win as a pro for Mendez, who finished fourth at XTERRA Worlds last year and was 2nd to Josiah Middaugh at XTERRA Oak Mountain earlier this season. It was the 15th career win for Paterson and her second this month on the Euro Tour (she won XTERRA France on July 3.).

XTERRA European Tour technical director Nicolas Lebrun was on-site to take in all the action and brings us this report…

In each of the past three years we've finished this race with our rain jackets on, finishers covered in mud.

Not today. This year we had Maui weather! It was sunny and almost 35°C. The beautiful heart of Abruzzo, the water in the "Lago di Scanno" was warm at 22°C so the pros started without wetsuits at 11 a.m., then three-minutes later the age groupers started (wetsuits optional for them).

The swim was one big 1,400-meter loop with a little run over a foot bridge for show, then back in for the last 100-meters. It was one of several great spectator additions, and the athletes will tell you the atmosphere from start to finish, and also for the award ceremony, was something special … and this year with perfect sunny weather, it was magic.

The first to exit the water was a group of four featuring Mauricio Mendez, Karl Shaw, Sam Osborne and Stephen Bayliss.

"I wanted to swim fast and take some time on the good mountain bikers," said Mendez.

Shaw, who won XTERRA Costa Rica earlier this year and is noted for his strong swim, said "François (Carloni) told me to take this race easy at the start and I listened."

About 1'30" behind was François Carloni with Max Chané, then about 30″ behind them was Thjis, Lemann, Pyott, Kubicek, Kubek and Forrissier.

Danica Spiteri from Malta was first out the water for the women with about one-minute on Lesley Paterson, Elisabetta Curridori and Renata Bucher.

"When I saw Renata with me out of the water, I started to stress, because she is a really good mountain biker," said Paterson. "At XTERRA France I started the bike fast to put the pressure on her, not it was on me."

Ladina Buss was a little back in the swim and Helena Erbenova was the last podium contender out of the water but she did not panic. She has won races in this position with her fantastic bike and run.

After a few kilometers in the beautiful village center, after climbing those small stairs, the men's positions were almost the same, just Bayliss already let the mountain bikers do their thing!

For the women, just after 3k and only 100m+ we saw some big change with Lesley already leading, Renata second one-minute back, then Danica and Ladina at 1'15", Curidorri at 1'30" and Helena at 3'55.

The bike loop was made in two parts, one small loop of 12k with 450m+ of climbing, after this hot warm up, the three guys were still together, Mendez, Osborne and Shaw, but Mauricio was a little bit weak on every downhill, but stronger going up, so he was able to come back with them.

"I tried to attack on the big climb on the big loop, to get some lead before hardest downhill, but even though I was stronger there it was not enough," said Mendez.

Shaw was still waiting, and said "I've never done so much climbing on a MTB in one day!"

That is why it is smart to save some energy. To try to finish first, first you have to finish.

Behind those three, Carloni was alone, not with his best mountain biking legs, but better than in France, "I knew I needed to start slow, because I was not at 100% but it was hard to do it, so I think I paid a little bit at the end," said Carloni. He was at 2′ back, then a group of three with Max Chané another young French talent, Pyott and Kubicek.

Kubek was 10″ back of them and Forissier also on the top ten but not look at his best today. That was the position starting the big climb of the day, in the second loop (18km for 850m+). At this point Lesley had already 3'25" on Renata, Ladina was at 5′ "this race was just against the heat," she said.

Erbenova started the comeback, on place, but not on time, because Lesley was on another planet today!

"I did lots of training in altitude in Switzerland, and I could feel the difference, and because I started to be fit, I didn't struggle that much with heat," said Paterson.

At the end of the bike, Sam Osborne entered T2 alone with about 1'30" on Mendez and Shaw.

"I was a little bit better then Karl and Mauricio going downhill so I attacked just before we jumped on the most technical downhill to try something," said Osborne.

It worked! Mendez was not able to follow, Karl was, but he had a flat on the second part.

"I decided to finish on the rim, at only 3k from the finish, two down and one flat on the road," said Shaw, who got into T2 with Mendez.

Carloni started to pay a little bit, his fast start and was now at 4′ but still in 4th position, Chané came in 5th at 5'40" then Pyott, Kubicek, Forissier and Kubek all with about 1′ from each other.

In the women's race Paterson was really too strong today and finished the bike with more than eight-minutes on Renata and 9′ on Helena. Buss was now in 4th but with Elisabetta in 5th, she wanted to be strong again, in Italy, in her country, and she knew she can run fast on this kind of trail.

Halfway on the run there is a long and steep climb, 200m+ up in 1km, and not a lot of athletes were able to run here … and maybe this place was the key to victory because Mendez passed Osborne on this climb and never stopped.

"I like this type of run," said Mendez. "I like the technical trails and the steep climbing, so even though I didn't know I could win when I started the run, I was confident in my abilities to be strong on this last part."

Mendez will now do the rest of the XTERRA European Tour races (Poland, Sweden, Germany, and Denmark) and be in contention for the overall Tour title.

"It's my first time in Europe, and I'm so happy to start my trip in such a nice place and with a victory," he said.

Osborne finished second and was also really happy because he had a strong race, "I'm on the podium with some really strong guys. I loved those technical downhills, so it's a good day for me," said Osborne.

Shaw completed the top three, Kubicek had a fantastic run to finish in 4th, and Carloni was 5th.

From lr Erbenova, Paterson, Bucher

In the women's race Paterson had a 14-minute lead after 5k of the run! And, she was running when most of the others were walking.

Helena finished second and happy, she knew today Lesley was too strong and really managed the race for the second place.

"I was trying to catch Renata on the bike, and was almost with her on the last up hill, but she is too strong down. So I had to wait for the run to catch her, then I tried to enjoy this hilly and beautiful run loop, I'm happy with my second place today," said Erbenova.

The day before, during the pre-race presentation, Erbenova had said that even after many victories here, she will need to get ready for the second position.

Renata managed to stay in third position, but it was close… our young Italian was right behind but stayed in 4th as Ladina completed the top 5th.

"It's always good to be on the podium here at this beautiful race," said Bucher. "When I started the run, I knew Helena would pass me, and I just wanted to stay in this position and not lose too much energy, so I could also race well next week in Poland. When I saw Betta at the end, I had the energy to accelerate, no more sprint! (In Switzerland – she missed the podium after a sprint finish)

From the start to the end the show was perfect, of course like in every race, some points need to be fixed, but everybody had fun and enjoyed the race even though many told me it was the hardest race of their life!

I want to thank Wolf and his crew for the show, MTB Scanno for all the volunteers and the technical part and the local community who supported the race! Ciao e ci vediamo l'anno prossimo Scanno!
Elite results:
Pos Name, NAT Time Points
1 Mauricio Mendez, MEX 2:49:37 75
2 Sam Osborne, NZL 2:53:15 67
3 Karl Shaw, GBR 2:53:56 61
4 Jan Kubicek, CZE 3:01:31 56
5 Francois Carloni, FRA 3:02:18 51
6 Arthur Forissier, FRA 3:03:11 47
7 Jan Pyott, SUI 3:03:35 43
8 Peter Lehmann, GER 3:04:57 39
9 Maxim Chane, FRA 3:05:33 36
10 Dominik Wychera, AUT 3:06:26 33
11 Stephen Bayliss, GBR 3:06:58 30
12 Markus Benesch, AUT 3:07:48 27
13 Mattia De Paoli, ITA 3:09:08 25
14 Tomas Kubek, SVK 3:10:49 23
15 Llewellyn Holmes, GBR 3:11:04 21
Also: Aidan Nugent, Richard Sumpter, Martial Schmidt, Leandro Glardon, Michael Szymoniuk, Jim Thijs, Fabrizio Bartoli, Tom Kerner, Valentine Genewe, Simone Calamai,
Pos Name, NAT Time Points
1 Lesley Paterson, GBR 3:15:59 75
2 Helena Erbenova, CZE 3:29:01 67
3 Renata Bucher, SUI 3:37:15 61
4 Elisabetta Curridori, ITA 3:37:26 56
5 Ladina Buss, SUI 3:43:53 51
6 Danica Spiteri, MLT 4:01:33 47
ALL-TIME XTERRA ITALY PRO CHAMPIONS
Year Men Women Venue
2004 David Henestrosa Jamie Whitmore Sardinia
2005 Olivier Marceau Melanie McQuaid Sardinia
2006 Nicolas Lebrun Renata Bucher Sardinia
2007 Olivier Marceau Eszter Erdelyi Sardinia
2008 Olivier Marceau Sibylle Matter Sardinia
2009 Franky Batelier Renata Bucher Sardinia
2010 Franky Batelier Melanie McQuaid Sardinia
2011 Olivier Marceau Marion Lorblanchet Sardinia
2012 Nicolas Lebrun Jacqui Slack Sardinia
2013 Conrad Stoltz Helena Erbenova Abruzzo
2014 Ruben Ruzafa Helena Erbenova Abruzzo
2015 Ruben Ruzafa Helena Erbenova Abruzzo
2016 Mauricio Mendez Lesley Paterson Abruzzo
RUZAFA, POOR LEAD XTERRA EUROPEAN TOUR STANDINGS
Ruben Ruzafa and Brigitta Poor continue to lead the XTERRA European Tour standings after 7 of 11 events.